Truly Awesome Retro Future Sculptures by Gary Haas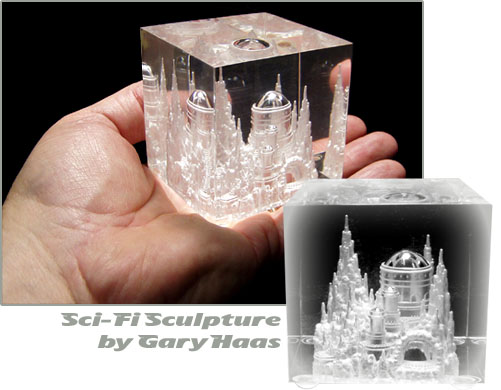 I've just unpacked a wonderful acrylic sculpture by Gary Haas – it is not the one you see pictured here, but it's very similar – and it's an amazing and beautiful piece of work. More pictures of this one are at his Deviant Art page, and the sculpture pictured here is currently for sale at Etsy.
Gary carves these from solid blocks of acrylic using tools that I'm trying to picture in my mind. I know that they're rotary tools (which describes a heck of a lot of powered tools, when you think about it) but in order to do the undercuts it seems as though a cutting bit would have to deploy whirling flanges of death after it was already inserted. Which, you know, is really cool. In fact I'll continue to believe in retractable whirling flanges of death even after I find out I'm totally wrong.
Because some things just ought to exist. And to get back on topic, this sculpture is one of 'em.
Gary seems to think I'm inspirational, and I sure won't argue with him ("Whirling flanges of Death!") Either way I'm awfully glad to have this in my office. My advice: you should have one too.
Update: he's just posted a photo of mine at Deviant art. It's here.