Tee Junction declares that I've designed 3.5% of the best Steampunk-Inspired T-Shirts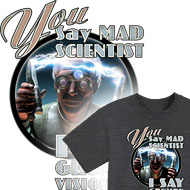 Tee Junction has posted its list of the 50 Best Steampunk-Inspired T-Shirts, of which there are actually 56, and of which 3.5% are from my Retropolis Transit Authority shop. Even though, as I've mentioned before, this ain't Steampunk.
But heck, it's an honor just to be nominated. Now how did he miss those "Airship Ballast" shirts?
[tags]t-shirts, mad scientist, steampunk, 50 best steampunk tees, retro future[/tags]