An Airship over the Retro Future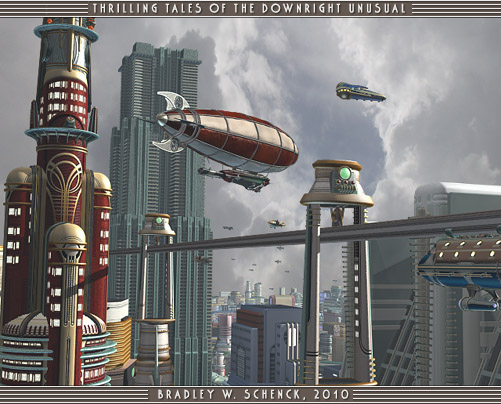 Just a random, unprocessed frame from the bit I'm rendering right now for the Thrilling Tales of the Downright Unusual trailer. This is from the second scene. Now that I've pretty well worked out the timing for the first minute, I'm going in and making the final versions of those shots.
I'm not sure when I'll be uploading the finished trailer (heck, I'm not sure when it will be finished). I may not want to promote the site until I'm done with the first printed volume, and ready to get to work on Part II. But I have a good and mysterious reason for wanting to get it done early – I'm thinking about incorporating it into something else that needs to be ready before I start on Part II.
Anyway, this is pretty fun. It's always nice to see what happens when I put a camera in Retropolis to see what's moving around, and I don't do that often (enough?) these days.
Update: the Thrilling Tales of the Downright Unusual web site is now alive (alive, I tell you!) at thrilling-tales.webomator.com