Lair of the Clockwork Book Update, other thrilling news, and Adventures in Plumbing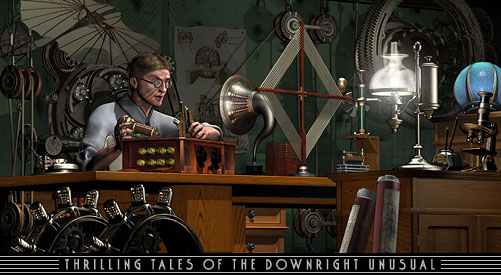 Here's the final illustration for Osgood Finnegan's (first) tale in The Lair of the Clockwork Book. It's yet another laboratory, or a workshop, anyway, in a steampunk setting that predates my Future That Never Was by about two hundred years.
Click on the picture, and behold its relentless embiggification.
I'll have to leave Osgood to his work in there. I've got about ten more illustrations to go before this Thrilling Tale can go live at the web site… then I've got perhaps a week of web site updates to do so that the site can support this non-interactive story, and at that same time I'll make some other housekeeping changes that will make all the stories taste better to Google's finicky palate, while also enhancing a couple of other things under the hood.
But all that's grinding to a halt for a day or two. It looks like I have a Plumbing Adventure to take care of first. I'd call it an Emergency Plumbing Adventure, except that I can't think of too many plumbing adventures that aren't emergencies. That would be the kind I'd rather have, I think.