My Thrilling Tales books are on sale at Amazon, at over 40% off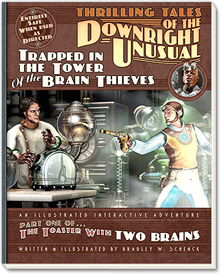 I've got no idea why, or for how long, but at the moment Amazon has offered a deep discount on my two Thrilling Tales of the Downright Unusual books.
You can get either Trapped in the Tower of the Brain Thieves or The Lair of the Clockwork Book
for just $10.79; that's a discount of 43% on the first, and 45% on the second, or, um, inevitably, 44% on the two of them together.
Each one's about 130 full color pages, at some amount I am too weary to calculate per page. But, you know, a bargain. They've gotta be CRRRAAAAAZY to offer these deals!