Rick Remender's FEAR Agent in development at Universal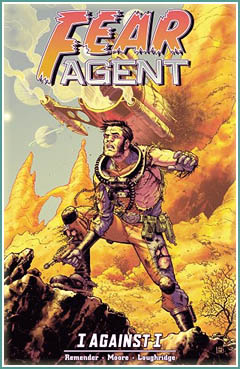 Rick Remender's FEAR Agent – the comic book tales of Heath Huston, hard-drinking alien exterminator in a retro future – is being developed for the screen at Universal. I've liked the series, and not only for its occasional homage to Wally Wood (or to Jeff Brewer's Cool Rockets, for that matter).
Right out of the gate the stories had me going when Heath, in the middle of a pitched battle with aliens, was trying to figure out if they were intelligent enough that he'd get prosecuted for killing them. It's a difficult future this guy has to contend with.
The series started at Image Comics and then made a slightly unusual sidestep over to Dark Horse. I wondered at the time whether this might have something to do with Dark Horse's media contacts, and maybe I was right to wonder.
It's early days, but this film – if it makes it through the gauntlet – could be loads of cliffhanging, drunken fun with Heath and his intelligent spaceship roaming the galaxy and getting into trouble. The news appears at the Risky Biz blog, and my thanks go to to Sci Fi Wire for pointing me that way.