Assemblage Rayguns and Robots by Dan 'Tinkerbot' Jones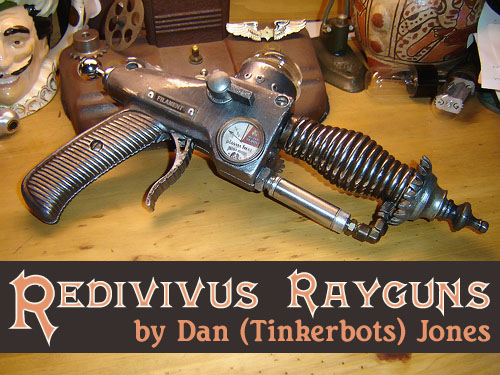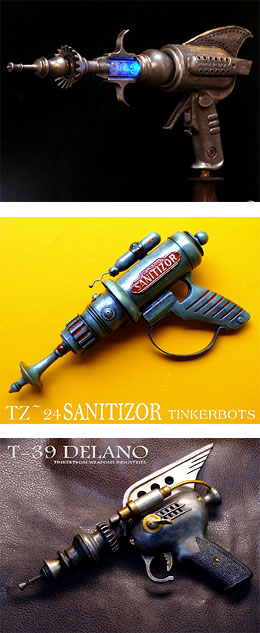 Dan Jones' Flickr stream shows off his assemblage sculptures of retro robots ("Tinkerbots"), Rayguns, Vehicles, and other things of equal niftiness.
I spent most of my time there on the Redivivus Rayguns, though, because I think they're not those rayguns that we have, but those rayguns that we deserve.
At the top of this post you see the Vintage Plasmablast (and, oh, those modern Plasmablasts just can't compare) while at the left are the Pneumatic Aetheric Disperser, along with the TZ~24 Sanitizor and the T-39 Delano, which is my personal favorite. They're all, or should be, the products of Tinkertron Weapons Industries. By way of sculptor Dan Jones.
Assemblage sculptures like these hit a sort of aesthetic sweet spot with their worn, vintage industrial parts that combine so perfectly with our worn, vintage industrial futures. That Sanitizor just looks like it was always meant to look that way.
Which, coincidentally, is the best way to use a Sanitizor. You yell "Look that way!" and, when they do, you lose no time in Sanitizoring the heck out of them. Or, anyway, that's what I do.