Coming Thursday: Page update notifications for the Thrilling Tales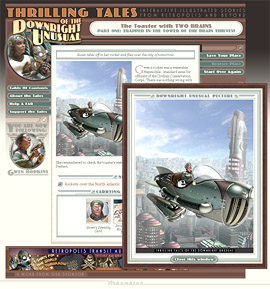 Well, in response to a reader request I've just added a page update notification for Thrilling Tales of the Downright Unusual. It seems to be working just fine, but I'm interested in seeing how everything behaves in a real-life test. We'll see that on Thursday morning when the next page goes live.
The page update notifications will be available through an RSS feed here, in my Webomator blog. The RSS link will go on the Thrilling Tales front page. I'm not sure I want those updates to actually appear here in the blog, though: that might be annoying for my readers or for folks on Facebook, since these blog posts get echoed over there. I guess I'll see how it all works and then deal with where it all works.