It's alive: the Business Card Construction Kit at Retropolis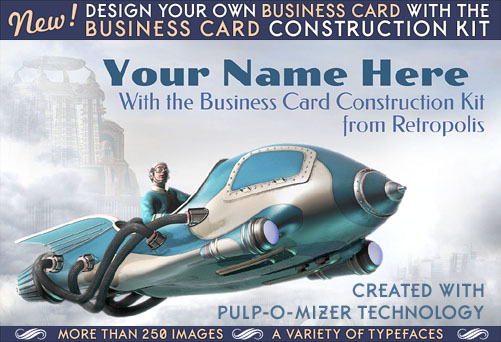 I've been selling customizable business cards for several years now at Retropolis and The Celtic Art Works. Customers would click on a sample image and be carried over to the Zazzle site, where they could edit the text on that card design to their own specification. The system worked pretty well, and a lot of people bought their business cards that way; but I've always thought it could work better.
After I built the Pulp-O-Mizer I could even see how it might be better: if all the possible background images were available in menus, and the whole user interface worked a bit more like the Pulp-O-Mizer, I figured that the process would not only be more fun, but more engaging. Customers would be able to try out all sorts of possibilities… so they would. They'd be more likely to buy their cards once they'd invested their time in them. It could work out better for all of us.
But it wouldn't be a small job, and I'd need a fair-sized block of time to work on it.
As it turns out, the job took about a month.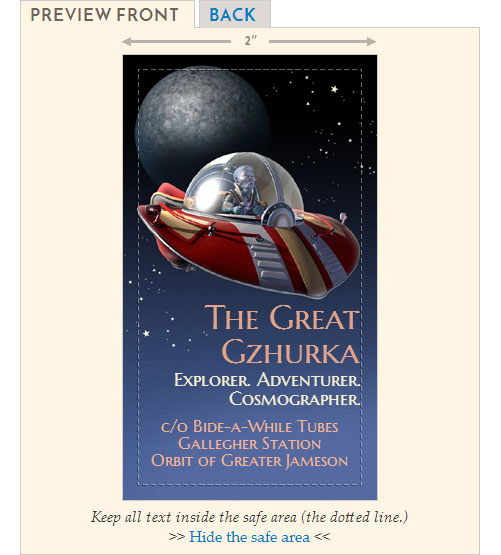 It's alive! Alive, I tell you!
So today I've unveiled the Business Card Construction Kit at Retropolis. (It'll show up soon at The Celtic Art Works, too; but I've included all the Celtic art backgrounds already.)
The Business Card Construction Kit includes much of what the Pulp-O-Mizer does, but it also does more. You can design a business card in either horizontal/landscape or vertical/portrait shapes; you can have images and text on both the front and the back of the business cards; you can select any colors you like for your text; you have over 250 background images from which to choose, along with a wide variety of typefaces; and I've made innumerable little improvements to the user interface and user feedback.
It's a pretty nice system!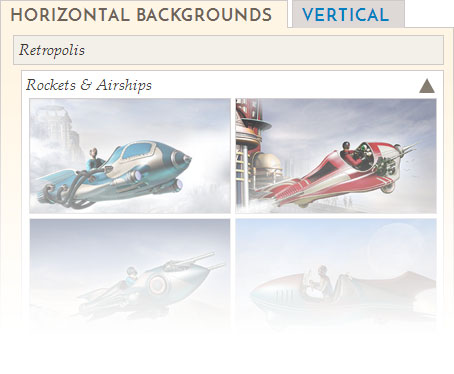 Over 250 background images
The background images are divided by subject and style; in addition there are separate menus of images for the front and back of the cards. (That's because the card stocks are usually coated on just one side, so an image that works well on the front may not look as good on the back of the card.)
There are a lot of Retropolis images, of course, but I've included all the old Celtic card backgrounds from The Celtic Art Works, and then added a lot of new border designs and images in that style. And I can continue to add more designs and styles as time goes on.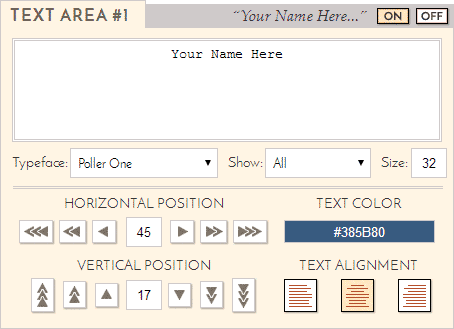 Many text controls, typefaces, and selectable text colors
Both the front and back of your business card can have up to six different areas of text, each with their own controls.
The color selector is something that I decided to leave out of the Pulp-O-Mizer, but it makes a lot of sense here.
And because there are so many typefaces available in the Business Card Construction Kit I've given you a second menu, which you can use to filter the typeface list by font type: Serif, Sans Serif, Hand Lettered, or All.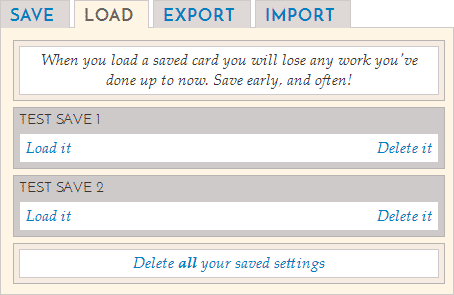 Save, export, and share your card designs
In order to save, move, or share your card designs, you get the same options as you do in the Pulp-O-Mizer. You can save and load locally, or you can export your card data as a block of text that can be imported into the Construction Kit on another device or browser.
There's also a menu of example designs that you can load, and learn from, and even use as the basis for your own business card.
So that's what I've been working on. I think it's a much improved system for buying your customized business cards, and it's designed to grow, as well. Give it a spin!