Art Deco Custom Computer Keyboard by Datamancer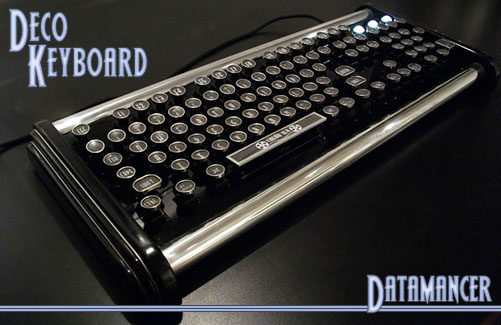 Just about everyone must have seen the incredible steampunk keyboards custom built by Datamancer – but this one was new to me. I guess he's been busy.
And it's pretty much right up my street, so if anyone's got about $1500 or so lying around, well, Christmas is coming, right?
This art deco computer keyboard was a custom project for the counter at Cinema 16:9 in Lansdowne, Pennsylvania. It's made of wood and chrome with bright white LEDs and reworked vintage typewriter keys. I'd sure love to spend my days hovering over one like it.
Some of his other recent work is a series of 'Aviator' keyboards, which are sort of halfway between the Deco keyboard and his earlier steampunkery: the Aviator's a Dieselpunk model. Among the notes and sketches at the Datamancer site are some other Art Deco bits in progress. I guess I'll be checking back more often now!