Now you can get 'The Lair of the Clockwork Book' for your Kindle reader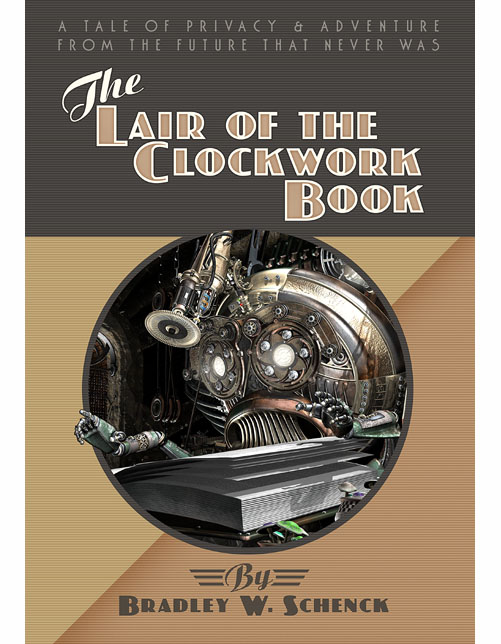 Your eyes may have glazed over in that last post before you realized that I was working on this: that's okay. I don't mind. It's not like I've taken down your name and recorded it in a little book where I keep track of my enemies and schedule their amusing, unfortunate fates.
It's not exactly like that.
So you've probably got nothing to worry about even if you don't rush over to Amazon and get yourself a Kindle edition of The Lair of the Clockwork Book. But honestly, just to be absolutely sure, you might want to do that anyway.
The Kindle Edition
See the pretty cover! I've always liked the dust jacket I designed for the limited edition hardcover. So I based the eBook's cover on that version.
This eBook edition is almost identical to the hardcover and paperback editions, except that the illustrations have been converted to greyscale. The great majority of Kindles render pages in grey, after all; and the greyscale image files are smaller than they would be in full color. (There are more than 120 of them!) That makes a big difference in Amazon's delivery fees, which are paid by the publisher.
The publisher? Well, in one sense that's me. In another sense, it's Radio Planet Books. You'll be hearing more about Radio Planet in the months to come.
The Kindle edition is priced at just $3.99, a big savings over the full color print edition. If you bought the paperback from Amazon they'll even let you buy the eBook for $1.99 – provided they've figured out that the books are linked. I'm not sure how long that takes.
You don't use a Kindle? An ePub version will also be available, but probably not until June or July.
Oh, and at the end of the book there's a bonus sample from Patently Absurd, my collection of illustrated stories about the Retropolis Registry of Patents. You'll hear more about that later, too.