Robot, Rocket, & Ray Gun Sculptures from Found Objects at Lockwasher Design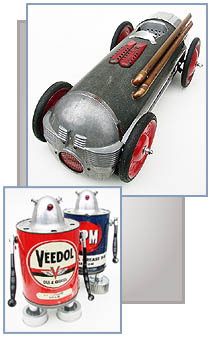 In the demented mad science project that is Lockwasher Design you'll find a treasure trove of fantastic ray guns, robots, rockets, and autos that are assembled from the sort of bin-diver's paradise that we dream of. Well. Some of us.
Vintage containers, Electrolux vacuums, spray guns, gauges and unidentifiable parts are here recombined into a retro-futuristic collection of bizarre and engaging sculptures.
There's a stand-alone gallery site and a larger series of Flickr streams, all full of these wonders. Partake.
Via Boigboing, Via Neatorama, Via Aurelia. Nope, I got that last one from Rudyard Kipling. Via the Romans.