You Say Mad Scientist… I Say Grumpy Visionary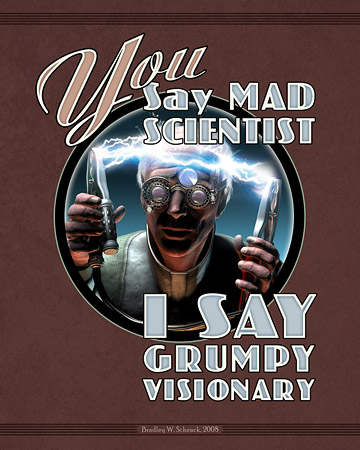 It's all relative in the Secret Laboratory. And until I finish the Annihilator Ray you can call me what you like – but I still prefer "Demented Iconoclast" or "Grumpy Visionary". Now, just sit still and let's get started, shall we?
"Demented Iconoclast", "Bent Inventor", and "Lab Loon" are also good, of course. But if you must persist with the Mad Scientist thing, make it DOCTOR Mad Scientist, would you?
This began its life as a T-Shirt design for the Retropolis Transit Authority. Then it achieved sentience, climbed out of the tank, and ate a lab assistant. All in all, quite a successful experiment!
(Also on posters, coffee mugs, greeting cards, and blank books.)