Research and Development Projects
HOME
FEATURED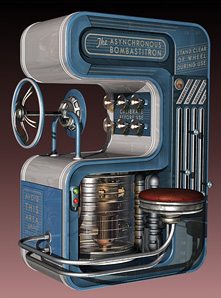 The Asynchronous Bombastitron
Our famous Asynchronous Bombastitron features the hand-driven wheel preferred by skilled operators. In this it differs from the Synchronous Bombastitron - a favorite of amateurs and beginners - because it's only with a hand-turned wheel that the experienced operator can exercise a nuanced, subtle control over the subject's rotation.
The stepper motor of the Synchronous Bombastitron does make the device's operation much simpler. But - as in most things - familiarity with the task leads one to try for those small, portentous flourishes that are only possible with the asynchronous version of the machine.
THE IRKUTSK BUREAU OF PECULIAR DEVICES

The Irkutsk Bureau of Peculiar Devices is most familiar to the public as the developer of the Asynchronous Bombastitron, the Melodius Subsonic Plasmatron, and other devices that have improved lives and eased workloads throughout the Galaxy.
But we do much more!
Because while we continue development projects in our main offices at the Irkutsk Starport in Alioth, our roving field operatives are constantly at work on a variety of research.
These projects include the discreet study of indigenous life forms on Earthlike planets, research into biological locations on uninhabited worlds, and ongoing studies of the archaeological remnants of the Guardians.
Some of this research drives our development projects; some is pure research that might never lead to practical applications - though one can never be certain what information will be useful in the future.
Regrettably our facilities are not open to the public. We do not disclose the locations of our field offices. Applications for employment are not solicited at the present time.