Two Returns of The Rocketeer – one real, one imagined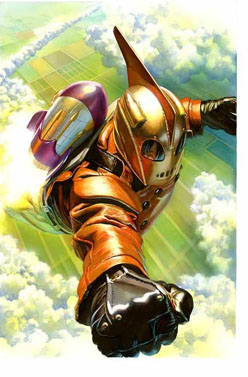 In its Comic-Con 2010 coverage Comic Book Resources relates even more Rocketeer news from IDW Publishing.
IDW has recently released both a recolored anthology
of the Rocketeer stories and the line art "Artist's Edition" of Dave Stevens' original inks.
I had my doubts about the former – which, it turns out, has been well received – but I think that the latter sounds like a great insight into the original work.
This latest news is that IDW will be publishing a limited series of new, short Rocketeer stories by a wide range of Pretty Big Names:
Dunbier said "The Rocketeer" will be a standard-sized comic with three stories per issue plus pin-ups. "We're going to start out with a four issue miniseries and then see where we go from there. There's some pretty decent people who are lending their talents to it so far." Those "decent people" include Mike Allred, Kurt Busiek, John Cassaday, Darwyn Cooke, Michael Golden, Gene Ha, Michael Kaluta, Garry Leach, Bruce Timm, Bill Willingham, and more. "Mike Allred is writing and drawing his, Kurt Busiek is writing a story for Michael Kaluta, John Cassaday and Darwyn Cooke are both writing and drawing their stories," Dunbier said. "There will be some pin-ups by Geoff Darrow, Art Adams, Jeff Campbell, Mike Mignola, a bunch of different guys."

(Scott Dunbier, Editor, via Comic Book Resources)
I have so much affection for Stevens' work that any announcement like this makes me squirm a little. But I also know that the names in that list probably have at least as much affection for The Rocketeer as I do – particularly Kaluta, who had a hand in some of the original stories. So I feel a bit optimistic about the announcement.
I'll be interested to see if they continue the direction Stevens took – in which our hero Cliff Secord runs into pulp heroes without knowing who they are (Doc Savage, The Shadow).
But the main ingredient that made The Rocketeer iconic, and prevented us from ever seeing more of the stories, was Dave Stevens himself. His high standards for the work made it excellent, on the one hand, and impossible, on the other. By making it more possible, will we lose the excellence? Time will tell.
A "substantial portion" of profits from the series will be donated to Hairy Cell Leukemia research. That's the form of Leukemia that Stevens fought for several years and which eventually led to his early death in 2008.
This is one of those Comic-Con days that's full of news releases that often have nothing to do with comics, but have emanated anyhow from the singularity that is San Diego. Among the news is a little bit about Jon Favreau's filmed take on the "Cowboys and Aliens" books with Harrison Ford and Daniel Craig. What I really like about this one is that Favreau is again relying heavily on practical effects with just a bit of digitality to enhance them. I say "again" because before he shot to everyone's notice with Iron Man he directed Zathura – a film I think ought to have done much better – and Zathura made brilliant use of practical effects and miniatures. I've sort of expected his blockbusters might have changed things and I'm really glad to see him do another film with that same old school approach.
And that led me to think about Hollywood's endless remakes, and the fact that although I have a soft spot for Disney's Rocketeer movie
…. it wasn't actually that good a movie and it certainly wasn't the movie that the Rocketeer deserved. So as of today, I've decided that what I would really like to see would be a Jon Favreau Rocketeer film – heavy on practical effects with just a digital gloss. Like everything imaginary, it would be awesome.
I meant it about Zathura. Go watch it.