Zazzle Remakes Itself and Invents Competition in Print on Demand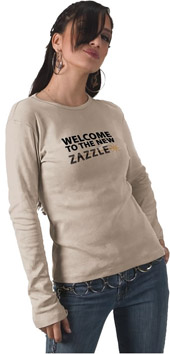 Zazzle is certainly not a newcomer to the print-on-demand universe; they've been around for several years, and they have an attractive selection of products for designers to customize. But it's always been hard to take them seriously as a profitable partner, and that was for two reasons.

1. Their terms of service (whether through design or error) seemed to state that once you'd uploaded an image to their servers for use on products, that design would remain available there (non-exclusively) forever, even if you deleted both the products and the image. It was possible to contact them directly to have the design removed – eventually – but this was a ridiculous necessity.

2. They didn't allow you to set the markup on items you sold through their site. If you wanted to sell there, you were limited to whatever profit Zazzle had decided you should make on the products.


These two points have always left Zazzle as a non-starter. Even if they were simply bumbling their way through the first point, the second one was a tremendous barrier to anyone who wanted to actually earn a living through the sale of their work. Zazzle's markups were not attractive, and you were stuck with them.
But as of this week, these two issues have gone away. (In fact the "we'll keep your images forever" problem seemed to have been cleared up earlier this year, though their web site had conflicting information about the change.) As of this week designers who sell at Zazzle are able to set their own markups on their merchandise. This is a very interesting development and it comes late in a year when their largest competitor (CafePress) has seemed to do everything in its power to alienate and infuriate the shopkeepers who design the products whose sales line CafePress' cubicles with gold.
The Zazzle site is in the middle of a revision and it's a bit wonky at the moment – for example, a lot of important content is popping up in small, non-scrolling windows – but it's well worth checking out.
While the roost is still ruled by Cafepress, print-on-demand designers have lately benefited from quality-oriented competition at Printfection, a much smaller (apparel only) rival*. These changes at Zazzle mean that CafePress is about to have a big competitor that has almost everything CP offers – with a slightly smaller and different selection of products, but essentially the same.
The last big feature that CafePress has exclusively is their volume bonus, with which designers get an additional tiered bonus based on their amount of sales. The volume bonus is so important to some successful CP shopkeepers that it's the only real thing holding them there, lately. If Zazzle were to adopt a similar volume bonus, we would see a completely level playing field between them. And that would be a very good thing.
Like any monopoly or near-monopoly CafePress treats its designer/shopkeepers as though they have nowhere else to go. That hasn't been completely true for some time now, but at this point even they must see it. This can only be a good thing for those who use these services. It's called competition, and it means that you have to do a good job and offer good service.
Or not, of course. But as of this week, "Or Not" has really big teeth.
*Printfection rocks, actually. But in this context, they're a smaller player whose products are limited to shirts, coasters, and cutting boards.