Streamliner PC case exceeds all standards of amazicality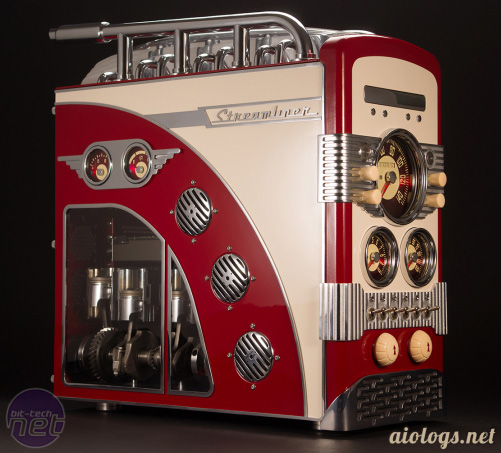 This stunning custom computer case is the work of a builder who calls him/her/itself aio. I happened on it through the 2014 "Mod of the Year" contest at Bit-tech.
Now, I don't necessarily need a computer case with chromed exhaust pipes and a working cam shaft (!) but I do admire the analog gauges, the fit and finish, and the wow factor, not to mention the sheer virtuosity that emanates from this thing. Click through to the project videos to see, part by part, what goes into it. It's truly wonderful.
I have no idea what purpose is served by the cam shaft. You can see in one of the videos that its speed is controlled by the knobs, low on the front panel, and I guess it's possible that the shaft is somehow connected to the speed of the case fans. Or, equally likely, it's a bit of sophisticated whimsy. Either way, well done!