Get the eBook edition of 'The Lair of the Clockwork Book' from Radio Planet Books for just $1.45

The Lair of the Clockwork Book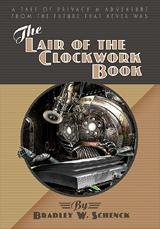 Until the end of July you can buy the eBook edition of The Lair of the Clockwork Book for just $1.45, only at Radio Planet Books. That's less than half the usual price of $3.99.
The Clockwork Book's lair lies far beneath the city of Retropolis, in the world of the Future That Never Was. As far as anybody knows, it's always been there – slowly collecting the stories, the ideas, and the secrets of its visitors, and then sharing them with those who come after.
If you were to visit the Book yourself, you might realize that in its own retro-futuristic world the Book serves the purpose of a social network – a mechanical social network. With that in mind, you could hardly be surprised at the misadventures its clients seem to have.
And what is the Book, really, and who constructed it, and why? That's one of the few stories that the Book is not allowed to tell.
On the other hand… the Book has learned how to bend the rules.
The Lair of the Clockwork Book, with over 120 illustrations, began its life as a serial that ran from February of 2011 to April of 2012 at the Thrilling Tales of the Downright Unusual web site.
The eBook edition, in greyscale, is usually priced at $3.99. But at Radio Planet Books you can get it for $1.45 through the end of July. (Both mobi and ePub versions are available.)