Posthuman Blues Blog Serves up "Women in Tubes"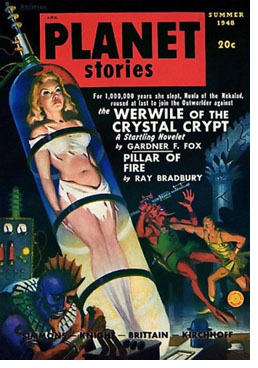 Posthuman Blues has been posting a series of what I never dreamed is an indispensable theme in golden age science fiction pulps: women in tubes!
I wish that Mac's posts were tagged so that I could link to the whole series, but if you browse through the posts you can find them. Who knew that this was a subconscious imperative that retro science fiction simply must express?
And as you might imagine, I've searched my own work for tube women and I have to confess that I come up short. I feel completely inadequate, in fact. I have a feeling that I'm just going to have to do something about that before long*. I mean, sure, I've put toasters in globes… but no girls in tubes? What the heck was I thinking?
And I wish that I were as clever as the commenter who called them "Tubular Belles", too.

*Update: Yep, I couldn't resist.