Roy G. Krenkel's illustrations for Tales of Three Planets, at The Golden Age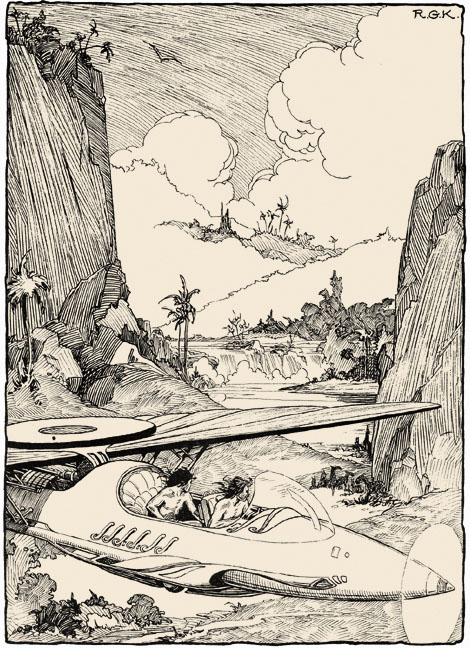 Over at The Golden Age I've been enjoying a long series of illustrations and covers for the works of Edgar Rice Burroughs. The features have included J. Allen St. John, Frank Frazetta, and quite a few more.
Today the site's posted a collection of Roy G. Krenkel's work on Tales of Three Planets. You can see a series of thumbnails for the cover, the final drawing and cover layout for the book, and the interior illustrations.
Krenkel was interesting in several ways: as a draughtsman, an inker, and as an influence on his friends Al Williamson and Frank Frazetta.
Krenkel's biggest contribution to their two or three-way collaborations was his knowledge of history. He was familiar with the architecture, costume, weapons, and armor of the people in his drawings and I'm convinced that it's due to his influence that so many of Frazetta's paintings include accurate details. When your eye wanders over Frazetta's hordes of characters you'll find many historically-grounded bits, whether they're Roman, or Persian, or Turkish: and when it's my eye that's doing the wandering I see Roy Krenkel in every one of those helmets or weapons.
The many young artists who aped Frazetta didn't have that kind of grounding in real things that look the way they do for real reasons; so like other mannerists they've exaggerated the things that they thought defined his work. We've seen a lot of twelve ton battle axes and thirteen foot long swords. When I see those, I also think of Roy G. Krenkel: I'm thinking that everybody could use a Krenkel around the neighborhood.