Go Hero's Buck Rogers action figures: now defending your desk against the perils of space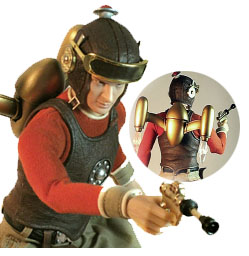 After a series of delays, Go Hero's ultra-detailed 1:6 scale
Buck Rogers action figure
is finally rocketing out of his warehouse.
Hop over there to gander at the features – everything from a detachable, glass space helmet to an internal audio device that plays old Buck Rogers radio shows (or whatever you upload to it via USB). Neat!
His gun is (of course!) a replica of Buck's iconic Atomic Ray Pistol… and Go Hero is also selling a 10″ version of that famous ray gun. In fact it's not an exact replica, since it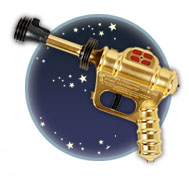 combines features of the original toy Atomic ray gun with the postwar Disintegrator Pistol. Comes complete with pops and sparks.
And still coming down the retro-futuristic pike is Go Hero's 1:6 scale Flash Gordon, a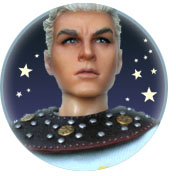 similarly detailed 1930's version of the character based on Buster Crabbe in the famous movie serials.
All in all, a pretty wonderful line of retro space heroes and replicas, all ready and eager to defend your desk from evil emperors and the Awful Green Things From Space.