T-Shirt Sale!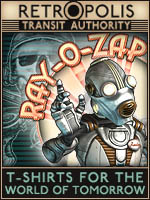 In other news, three of my T-shirt sites are having a really exciting sale this week – the sites are the Retropolis Transit Authority, Saga Shirts, and Hot Wax Tees.
Through Friday, April 17, you can get some great discounts on orders: $5 off a $25 order, $15 off a $50 order, and $35 off a $100 order (before shipping charges or any applicable tax).
So even though math makes my brain hurt, I can see that a $25 order gets 20% off and a $100 order gets 35% off. Nice! That last one is more-or-less a free shirt if you pay for three. The sites use the same checkout, too, so you can mix and match.