Why E-Readers (and the iPad) Are So Much Less Than They Seem

E-Readers (Neat!) and E-Books (Not!)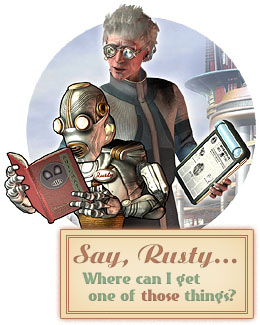 I love the idea of a reading slate, an e-reader, a tablet. I love books, after all, and no computer can match their portability or ease of use. And there's that retro-futuristic quality about them – though honestly, even modern futurism likes the gadgets – that makes me feel right at home with an imaginary one in my hand.
The problem is that we should not want the ones that are here and coming to market. They're loaded with problems for those of us who would like to use them. Their functions and their limitations are heavily skewed toward benefits to their manufacturers' limited and incompatible retail schemes. So much so, in fact, that as sexy as you may think that iPad demo was, or as pleased as you are to see Neil Gaiman exulting over the Kindle, these gadgets are going to lead their buyers down a dark and twisty path that leads to that place where media go to die.
A book is a simple object, which is not to say it's a limited one. It's portable knowledge. It – importantly – is an object that can outlive both its author and its reader. All its contents are present at once, and one can skim it or hone in on a particular page as quickly as one's eyes and fingers can move. It can be given to a friend; it can be loaned for a short time; it can be sold or traded. It can be borrowed from a library. It can be left on a dusty shelf for a couple of decades and then picked up and read again. Someday, long after its author wrote it, it will pass into the public domain and can then be reprinted for next to nothing.
E-books, like books, are portable knowledge. But they're very bad at everything else in that list.
(more…)