Thrilling Tales Countdown: 70 Down, 12 to Go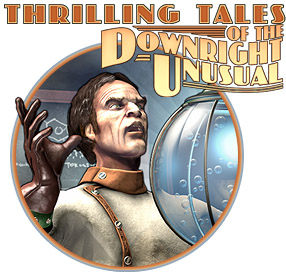 Seventy illustrations down, twelve to go!
Doctor Rognvald, like me, is pleased.
I do have one massive exterior set to rebuild for half of those pictures (I'm not happy with the version I made originally) so it's not what you'd call a slam dunk. But still.
Then there are three remaining inventory images. That's because – in adventure game style – characters may pick up and carry items around. You get to see a bit of information about those, hence the illustrations of the objects. Add about four or five redos for illustrations I think should be better… some global adjustments for brightness and contrast… and then the art for Part One of The Toaster With TWO BRAINS will be done. Incredible as that may seem. To me, anyhow.
The brightness and contrast adjustments are mainly necessary to sync the web and print versions together – printed art is always a bit dimmer than it seems onscreen – but I'm also fighting the gradual decay of my fine but aging monitor. Every few months I have to check it out and adjust its display. So I'll make a final pass through all the art at the end to make sure it's copacetic.
Once the art's done I can go back to work on the web site. I need to disable or modify one feature that I haven't used, add another feature that I thought up while working on the illustrations, and implement a couple of things (saving and restoring your place in the story) that I didn't bother with until I had a story to save and load. Add in some supporting pages, season to taste, fix the couple of problems the site has in the Chrome browser… and there it'll be.
I'm still hoping to launch the Thrilling Tales site by the end of March. We'll see.
Update: the Thrilling Tales of the Downright Unusual web site is now alive (alive, I tell you!) at thrilling-tales.webomator.com