"Making Of" Article for Alexis Van der Hague's "Papageno the Bird Catcher"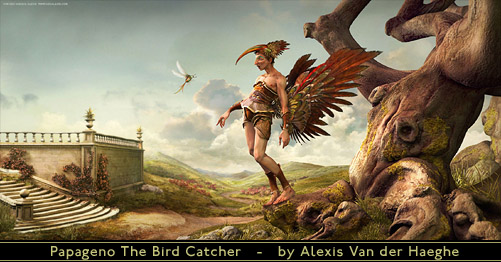 One of my very first posts here at the Web-O-Blog was about Alexis Van der Hague's animation Stilt Walkers: an animated short that was rendered with 3D tools in such a way that it recalled the style of traditional paintings. That, and the lyrical style of the piece, impressed the heck out of me. Just lovely.
3D Total is hosting a "Making Of" article for a new image by Van der Hague. Here we see a portrait, within an 18th century landscape, of Papageno from Mozart's The Magic Flute.
This time around we get not just the final product, which is sensational, but a breakdown of how Van der Hague has used 3D tools (ZBrush, Maya, and Mudbox) to build something that's beautifully not photorealistic. That's pretty close to a description of what I try to do. It's just that the "not photorealistic" styles we're each aiming for are pretty different.
This article's a great example of how that can be done. Excellent work!