New York's Forgotten Substations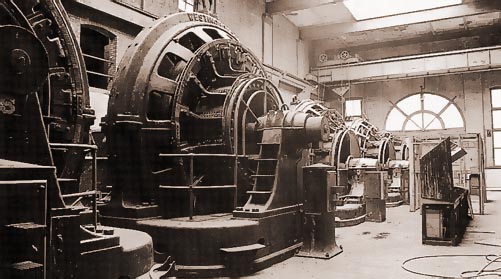 Christopher Payne's photographs
are a sort of urban archaeology that digs down not through sand or sediment, but through the layers of our forgetfulness. Because these remarkable industrial monuments are still there. They're just ignored.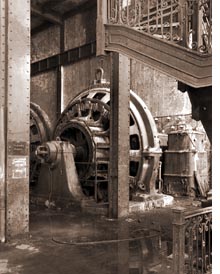 Some of these subway power substations are still in use, rebuilt and equipped with more modern equipment; while many, which make for the most interesting pictures, are abandoned. Those photographs are dreadfully still and fascinating – peeling paint, drifts of debris, and pools of standing water frame the massive power converters and banks of switches and gauges in these innocuous buildings, sprinkled throughout the city.
A power substation received power from one or more powerhouses through massive underground cables. The power converters look like gigantic turbines. Their function was to spin, powered by the incoming AC current, and by spinning generate the DC current that powered the subway.

Payne's book includes period photographs of manned substations, several shots of the exteriors of these buildings, which blend into their setting and are largely ignored, and – best of all, for me – the photographs of these lost installations with their titanic machinery in decay.
The pictures make wonderful reference, which was my reason for getting the book, but they're beautiful and interesting in their own right. I'm a sucker for early 20th century technology and machinery, of course. But I don't think you need to be, to be moved by the neglect and decay of these immense machines that once were the embodiment of our progress and hope for the future.