The Device Patented Process Indicating Apparatus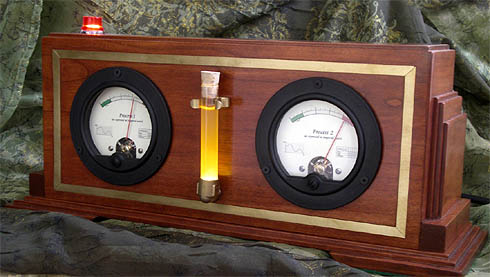 I'm always on the lookout for new additions to the Secret Laboratory, whether it's sharks for the moat, or… in this case… nifty analog gauges to tell me whether space pirates have breached my defenses, or whether my coffee's getting cold. (As if!)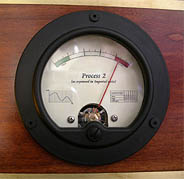 The Device Patented Process Indicating Apparatus promises to be all this, and more. Though I think it's likelier to tell me how hard my cpu's working.
The Device is a handsome, wood and brass built unit that offers two analog gauges and an indicator light; it's a programmable, um, Device, and has a USB port so that it can talk to your computer. The custom software allows you to tell the unit what it should be monitoring (like my CPU usage). Though the web site mentions both "Electrotherapeutic Shock Intensity" and "Ebay Auction Status", which, um, indicates just how versatile a Device it is. Whillikers!
Just wish it was available already – like those Weta rayguns!
[tags]computers,hardware,usb,gizmo,widget,apparatus,retro,analog,device,mad scientist[/tags]