I Lived on the Moon

Mysterious and strange – Yannick Puig's "I Lived on the Moon", set to the song from the Kwoon's album "Tales and Dreams", uses 3D rendered animation combined with effects that feel like 2D in a 3D space. The idea reminds me quite a bit of cut-out animation (think Terry Gilliam) though the visual style is softer and painterly.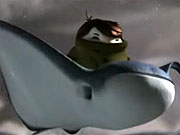 But the foreground characters are fully animated and nicely lit in 3D, in a surprisingly successful style. This is a haunting, lovely piece of work.
Gleaned from 3D Total.