Apache Legend Animated in French Student Film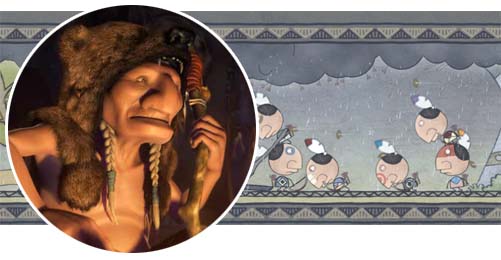 HUGH is a fantastic short film by a group of four students from France's École Supérieure des Métiers Artistiques. We see an Apache shaman telling some children a story about the days when the sky was so low that birds couldn't fly, trees couldn't grow, and adults had to walk with their backs bent and their eyes glued to the ground.
The "present day" scene of the storyteller is rendered in a wonderfully realistic but stylized manner – the characters remind me of the successful treatment of human characters in Ice Age – while the story itself appears in a completely different style that's echoed n the decoration we see on the storyteller's tent. From those creative decisions, through its execution, and including the animation and the voice and audio work, this is a first rate effort that's head and shoulders above what you expect to see in a student film.
Here it is, in DIVX format, with English subtitles. Go look!