Celtic Knotwork Peace Sign – where the 1960's meet the 960's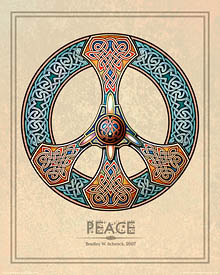 Here's a symbol I've wanted to remake with Celtic knotwork for, well, a long time – a Peace sign.
And having made it, I've produced it for T-shirts (in both silver and gold versions), posters, cards, mugs, boxes, framed tiles, and coasters. I get that way.
Give Peace a chance, okay?