Return of the imaginary editor: on sentences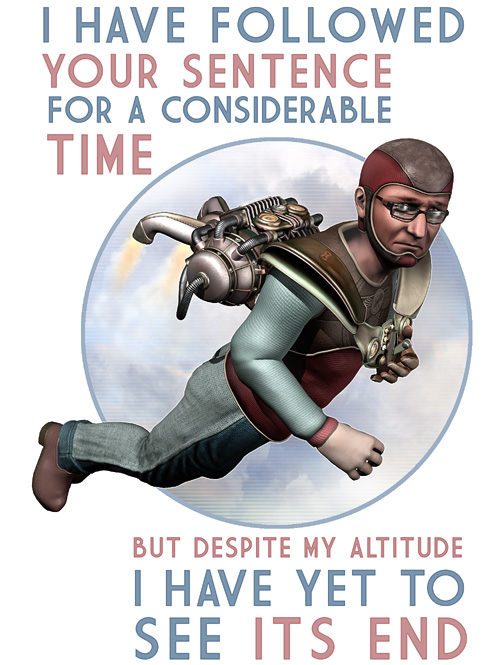 It's a new (or newish) week, and so I've received my weekly feedback from my imaginary editor. If you haven't met him before, you can catch up here, here, here, and here. Go ahead: I'll wait till you get back.
He seems to have kept to that pensive mood we saw in his last message. But at the same time… I sense a return to his original brutal malicious uncompromising assessment of my book, Slaves of the Switchboard of Doom. It's subtle, but it's there.
And I guess I can't deny that a sentence will sometimes develop sentience and leap off the page, eating the cat, if applicable, or otherwise the dog, on its way through the window and into the street outside where it's likely to cause a car wreck – or, conceivably, a train wreck – before it slinks off into the shrubbery and into its own intensely private, eventful, and undeniably long life in which periods are far outnumbered by semicolons. It can happen.
But on the other hand a long sentence that seems to wander can be a great setup for a quick, pithy punchline that slaps the reader right in the brain before he or she knows what's happened. Which is pretty great.
I was sure that in my many editing passes I had winnowed out the ones that didn't do that, and left only those that did. But I can't tell. That's because my imaginary editor never got around to telling me which sentence he's talking about.
Maybe it was Chapter Twelve.
Anyway, I'm off to figure that out and to daydream about the return of my actual editor. As one does, in moments like these.