It's All About You: T-Shirt Sale at Retropolis Transit, Saga Shirts, and Hot Wax Tees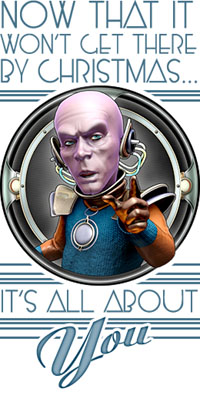 No one knows self interest like the Big Brain. Once you have that much self inside your massively enhanced cranium, well, there's not always room for anything else.
So the Big Brain watches the calendar with great interest at this time of year: because when the days have ticked over… wait for it… to now, he knows that any perfect present he can conceive of would be doomed to spend the holidays in the Post Office.
Now, you see… the Big Brain's time has come.
Now the Big Brain can buy a present for himself.
And I, being fully in support of that plan, am pleased to announce that from now through December 27 the Big Brain, by which I mean you, can save up to 20% on a T-shirt order of $25 or more from my Retropolis Transit Authority, Saga Shirts, and Hot Wax Tees sites.
There's this complicated mathematical thing that happens when you use the coupon code 2010LOVE during checkout. Technically I think the discount could go as high as 25%, but that would only happen on a very large order, as far as I can tell. In the real world you can expect a discount of up to a fraction more than 20%. So that's what I'm calling it: up to 20% off. You just have to enter the coupon code 2010LOVE when you're checking out with an order of $25 or more.
Then… while you pack your minions' stockings with tiny gifts of total destruction, you can smile quietly to yourself in the certain knowledge that it's not just cookies and milk for you, Big Brain. Oh no. Muahahahaha, and so on.