Signed copies of 'Trapped in the Tower of the Brain Thieves' are back in stock; also, other stuff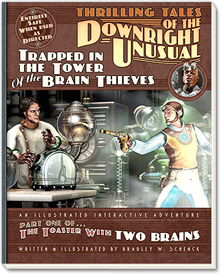 A little while back I actually ran out of signed copies of Trapped in the Tower of the Brain Thieves – but now I've got another batch of 'em, so they're available again at the Thrilling Tales of the Downright Unusual web site. (The unsigned copies, I hasten to add, were always available and still are.)
I'm not sure that my signature means anything but you also get a pair of spiffy Thrilling Tales bookmarks.
And since we're talking merchandising here (well… I am, anyway, and you're doing whatever you're doing while I do it), there's also a splendiferous series of Thrilling Tales of the Downright Unusual T-shirts, not to mention the uncanny Thrilling Tales beverage containment devices, which themselves are totally eclipsed by the outright wonder of the Thrilling Tales posters and 2011 Wall Calendar.
Which is quite a lot of wonder, now that I think of it.
So while you wonder about that, I'll let you know that the first tale in The Lair of the Clockwork Book has now got all its illustrations. I'm working on the second set, for something that I think is called Osgood Finnegan and the Orb from the Stars, or Osgood Finnegan and the Mysterious Stranger, or Osgood Finnegan and the Tale That Has Yet To Be Named.
Indecision's an awful thing.
I spent a ridiculous amount of time building and texturing Osgood's 19th century wagon, so I guess I should cram it into as many of the illustrations as possible. Though that would be cheating.