The Big Mad Science in 'Slaves of the Switchboard of Doom'

Slaves of the Switchboard of Doom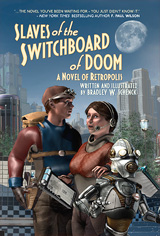 It's hard to say exactly why popular culture settled on the mad scientist as an essential ingredient for stories that look science fictional. The wild-haired, cackling inventor who meddles in Things That Man Was Not Meant to Wot Of could just as easily have been a lawyer or an accountant. Because lawyers and accountants meddle in Things That Man Was Not Meant to Wot Of every day, and you can measure their success by whether or not anybody Wotted Of what they were doing.
Though I guess that'd be a different kind of story.
Me, I'd enjoy a story about wild-haired, cackling accountants. But the zeitgeist has spoken: mad scientists are the thing.
So when I set myself to building the city of Retropolis I had to do something about mad science. My solution was twofold.
First, I made it big. Big to the point where, in this world, all science is mad. There's just no such thing in Retropolis as a careful, methodical researcher who slowly extends the limits of our knowledge through carefully designed and controlled experiments, complete with double-blind studies and peer review.
If you even suggested that to a Retropolitan scientist, you'd get a wild-haired cackle and you'd find yourself floating in a vat of something you'd rather not think about.
So that was number one. Make it big.
Next you have to wonder how a society would deal with Big Mad Science. And there are a lot of things there to consider.
Because there are benefits to Big Mad Science. Sure, you get a lot of explosions and unfortunate by-products from these inventions, like mutations, and huge poisonous clouds, and flying squids. But you also get rapid advances in every discipline, from Robotics to Fluid Mechanics to (my personal favorite) Defensive Botany.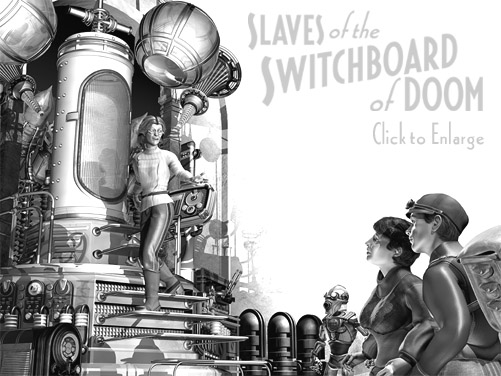 My City of Tomorrow is practically defined by its Big Mad Science. So the people who live there must have developed a system that encourages this kind of research while protecting the civilians from its side effects. And they did. They created the Experimental Research District. It works like this:
The District represents one successful approach to innovation.

If you take every wild-eyed scientist with a lab full of explosively inventive progress and then shove them into the same small neighborhood, it was argued, they would tend only to hurt themselves, each other, and their assistants. There would always be civilian casualties, of course: but it was so much easier to keep those to a minimum if the threats were all crowded together. The apparent danger of one immense, coordinated incident was considered small because the occupants of the District tended toward self regulation of the kind that starts with 'Fenwick's project may be more remarkable than mine!' and ends with 'Good old Fenwick. When shall we see his like again?'

The Air Safety Association has a special squad trained to deal with the District. That training, although Bonnie did not know it, was concentrated in a very large, top secret manual entitled Things We Have Run From, and How To Run From Them.

– from The Lair of the Clockwork Book
But of course this raises the question of how you can round up all these mad inventors so you can confine them in one part of the city. The answer there is to get 'em when they're young.
The Retropolis Academy for the Unusually Inventive is the only place in the city where students can study science. Oh, there are plenty of engineering schools, plenty of general universities, and many, many schools for younger students. But any students in those other schools who start to show the telltale signs of a scientific mind are swiftly transferred to the Academy.

They might escape notice when they memorize the Periodic Table; they can easily slip by if they tinker with the chemicals in a chemistry lab; but the moment they build their first Antimatter Catapult or High Energy Squirrel Emulsifier, their teachers pull them out of class and pack them off to the one school that's prepared to deal with their particular talents. Once they arrive they're on a fast track program that will one day release them into the Experimental Research District – the only place in Retropolis, by statute, where scientific research can be pursued.

Having entered the Academy there was, normally, only the one outcome: a lifelong career in the middle of the explosions and the sometimes successful transmogrifications that punctuate both the District and quite a few of the careers we just mentioned, with punctuation marks like the period, the exclamation mark, and, now and then, the question mark. In careers of this type, an ellipsis is extremely rare.

– from Fenwick's Improved Venomous Worms, in Patently Absurd

You have to applaud the kind of ingenuity that lets a society adapt to both the blessings and the curses of its Big Mad Science. The zoning regulations of Retropolis were well thought-out and perceptive; the education system works hand-in-hand with those regulations; and as a result the citizens of Retropolis are relatively safe from the side-effects of Mad Science, while they're still able to enjoy its benefits.
And if the system seems a little bit crazy to you or me, we have to remind ourselves that it's their response to a crazy situation. If we take a good, piercing look at our own situation, and the systems we've put in place to adapt to it, we may find that we're not in a position to judge.