Thrilling Tales: the adventure continues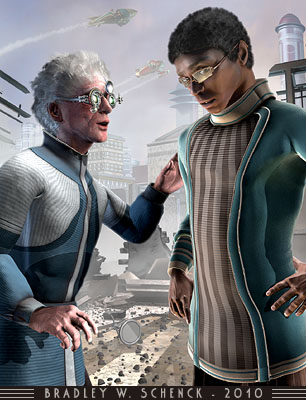 I'm making pretty good progress on the illustrations for The Lair of the Clockwork Book, even though I'm not as far along as I'd like. I've just finished the last of the pictures that takes place in Lew Stone's lab during his adventure (which may be called Big Headed Guy and the Big Ball of Doom) but I've taken longer to get them done than I'd hoped.
Because I Think Too Much, I've been considering why that is, and why that is interests me, although your mileage may vary.
The biggest difference between this and the mildly interactive Trapped in the Tower of the Brain Thieves is that this story's linear. When Lew powers up the Chiralitron and begins his experiment he will always do that, in the same way, and the same thing will always happen. This is Captain Obvious speaking, by the way.
As a side effect of this linearity there are fewer things that can happen – and so fewer illustrations – in any one location in the story. Why isn't fewer faster?
The problem is that building a complicated environment takes lots of time. Making a single picture in that environment takes awhile, too, but nowhere near as much. So the more illustrations that happen in one place, the less time – on the average – they take. You could say that I'm amortizing the time I've spent building the pieces that make the pictures.
So I built Lew's pristine laboratory and made the four pictures that take place there. Then I had to build Lew's demolished laboratory and make the four pictures that take place there. If I'd needed to make twelve pictures in each state of the lab, the average time it took to make the pictures would be lower. See?
Why didn't I, then?
So it's not terrible news – things are just a little bit slower than I expected. This really bothered me until I did the math and understood why. But for the final set of pictures in Lew's story I have some very different settings to create and those, thankfully, will go much more smoothly than the sets up to now. I'm concerned about what that does to the Clockwork Book's launch date – I'd hoped to start posting the story by the end of the year – but I don't think I'll be set back by all that much.