Eric Joyner's Robots and Donuts, a book of his Tin World paintings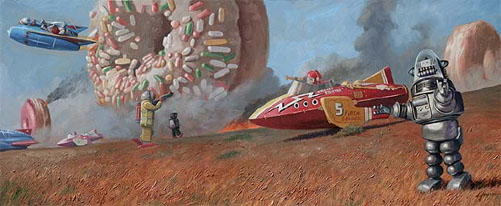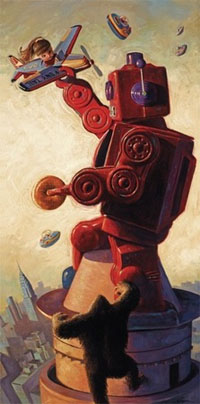 I can't imagine how I've managed to miss the paintings of Eric Joyner, but now that I've corrected that I can at least enjoy sharing them with you.
A San Francisco illustrator, Joyner has painted this series of pictures that combine larger than life, vintage toy robots with other toys, world domination, and – inevitably! – donuts.
His Tin World series shows us a universe where giant robots really do look like old tin toys. Let the rest of the world beware! Shown above is what's possibly my favorite: Fog of War, in which the situation does look pretty dire. Giant donuts roll out across the landscape amid the punishing fire of robots in their pressed-tin rockets, while robot soldiers march over the battlefield with their sparkers sparking and their lights flashing.
Robo Kong, on the other hand, is a more intimate view of the top of the Empire State Building… where the eponymous robot swats at determined baby pilots in their tin toy airplanes.
The series is all wrapped up in the book Robots and Donuts, while individual pictures are also available as prints.