The Retropolis Multi-POD Web Site, Part 1: Design Considerations

The first in a series of articles that describe how I combined products from several different print on demand companies into a single web site at my own domain.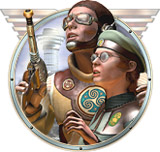 The design of a web site is always about several things, and only one of those things is "making it pretty". In fact the way you make it pretty all depends on the decisions you've made about what the purpose of the site will be (often not as obvious as you might think), what the content will be, how the user will find that content, and how the user will understand where he or she is within the site – and then be able to get elsewhere with as few clicks as you can manage.
The answers to those questions determine the framework within which you will make the site pretty. That's because these answers tell you what you're designing. If you leap off to figure out what it's going to look like without answering those questions first you're going to end up with something that (presumably) looks great, but whether it does the job it needs to do is left completely to chance.
(more…)