In progress: CreateSpace Shop Manager Plugin for WordPress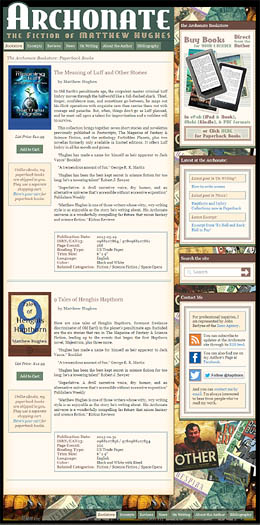 A few days ago I put up a working online bookshop for Matthew Hughes' Archonate web site – actually it's the second book shop there, since I've been feeding his site with eBooks all year long.
This one's different because it's stocked with print-on-demand paperback books, printed and shipped by CreateSpace. CreateSpace allows self-publishers to sell through several sales channels; the author gets a different cut of the sales price at each one. You can buy these paperback books at Amazon – in several countries – or direct from CreateSpace. It's not surprising that an author gets a much better percentage of the sale if it's made through the CreateSpace "store".
But the CreateSpace stores are primitive objects. Each one offers just a single book and there's no way for an author to tie all those individual book pages into one single, unified storefront, which is sort of necessary if you hope to sell your books online without a middleman like Amazon.
The Archonate's CreateSpace store is a proof of concept for what I'm working on now – a WordPress plugin that lets you combine any number of books into any number of category pages and host them – all together, all with a single shopping cart – within your WordPress blog. All an author needs to do is to set up the shop and go back to writing promote it.
You can see a screenshot of the admin screen for the plugin below.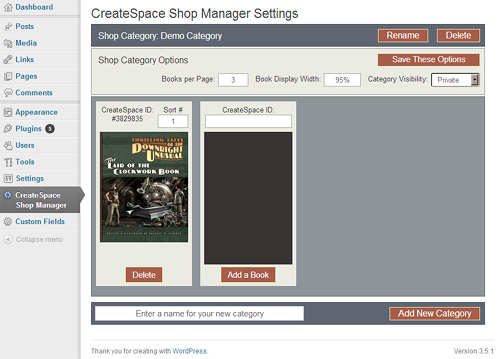 It's going to take me awhile; this is my first WordPress plugin, and the past few days have been made livelier by my creative use of language while I discovered new and exciting things to yell about.
At the moment I've managed to create a plugin that WordPress recognizes, set up its configuration screen, and add and retrieve the plugin's options from the WordPress database. That's been a heck of a lot of work for a plugin that doesn't do anything yet, but I have the working proof of concept to look at while I'm, um, swearing.
I like the way the content is pulled in from CreateSpace and modified in ways that the user can extend. So long as the WordPress blog is cached, this adds very little work for the blog's server or for the CreateSpace server. All in all, I think it's pretty neat.
Once it's done I might even do a very similar thing for Amazon affiliate sales, which, of course, aren't limited to books. I've used Amazon's own AStore system (you can see an implementation right here in my blog) but having used it, I know how cumbersome and unwieldy a thing it is. Surprisingly, it looks like I can do better. So maybe I will.