Cover Concept for my "Empire State Patrol" Project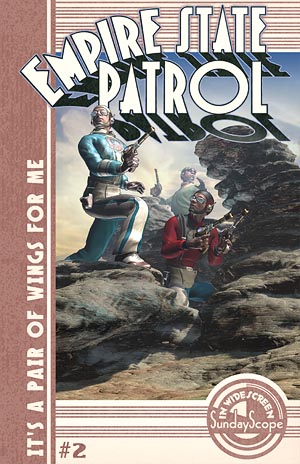 This is a concept piece for my huge, looming, and intimidating comics project, "Empire State Patrol". Which I think will take about as long to finish as the cathedral at Chartres. Go on, look it up. I'll still be here.
There'll be a common layout for all ten covers, which I think will be pretty much what we see here, and I've added an illustration for a scene in the second chapter. Since this is the cover for issue #2. I'm probably not really done with it, but finishing things like this makes me feel like I might be getting something done. Silly, silly me.
That's Jake Rothman up on the rock, Marco Lippi down below, and Clay Hooper out back. They used to be construction workers. Now they're rocket pilots. Life's just crazy that way.