Topic Archive: Hodgepodge


By request, the recipe for Mrs. Judkins' Czechoslovakian Sour Cream Cake

I got this recipe from my mother-in-law that was, and its origins are shrouded in mystery and intrigue. For example, it probably doesn't have a lot to do with Mrs. Judkins, and it may not have come from Czechoslovakia, which doesn't even exist any more. The whole thing was probably a plot of 1950's spies, if you ask me. But it's a really great cake. So, by request:
Mrs. Judkins' Czechoslovakian Sour Cream Cake
1 cup butter
2 cups sugar
2 eggs
1 teaspoon baking powder
1 cup sour cream
1/2 teaspoon vanilla
1/4 teaspoon salt
2 cups sifted cake flour
Topping:
1/2 cup finely chopped nuts
2 tablespoons brown sugar
1/2 teaspoon cinammon
(I recommend a handful of raisins, too.)
Preheat your cold war era oven to 350 degrees.
Do yourself a favor by making the topping first. It's easy: just chop the nuts and mix all the ingredients together. I always make more topping than this; you may find that you will, too.
Cream the butter, sugar, and eggs. Add the baking powder and salt; cream it for a few more strokes.
Fold in the sour cream and vanilla very carefully. (Why so carefully? Here's where the spies must have been adding their explosives. But just follow the instructions because who knows what might happen.)
Add flour, folding in carefully too. (ibid)
Spoon half the batter into a greased and floured bundt pan, about 10″ in size. Cover with half the topping. Add the rest of the batter, then the rest of the topping.
Bake at 350 for 50 to 55 minutes. This cake is deceptive, as you'd expect from the product of espionage; because of the sour cream it will not seem to be baked through when you poke it with a toothpick. Some experimentation is required (and recommended).
Cool the cake almost completely before removing it from the pan. Then sift powdered sugar on top. It's all over but the eating.


"Winged Victory" raygun now for sale at Resinator Lab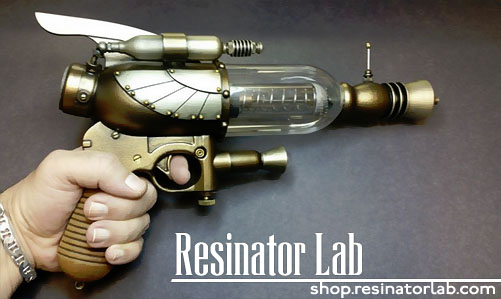 Hey, remember that gorgeous Winged Victory raygun I posted about late last year? Well, it's for sale at Resinator Lab.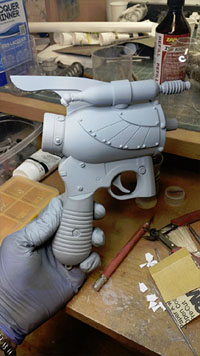 I know you're all excited and everything, but when you sit down and think for a moment you'll realize that there's really just one person who ought to have it. So do the right thing. Some kind of holiday is probably coming up; my mailing address is available. Just saying.
But in case you're not that selfless, you can always pick it up for yourself. I'll forgive you. Eventually. Added to which, you'll now have a disintegrator gun… and I'm not completely stupid.
Seriously, though, how can this thing not have sold immediately? It's fantastic.


Frederik Pohl: 91 years young, today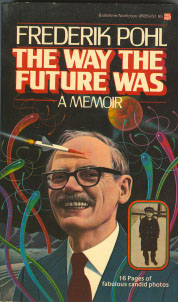 And speaking of Captain Future… or, more accurately, speaking of the Futurians and the Golden Age… why don't you go wish Frederik Pohl a happy 91st birthday?


Labor Day Sale on Celtic Art & Retro-Futuristic Design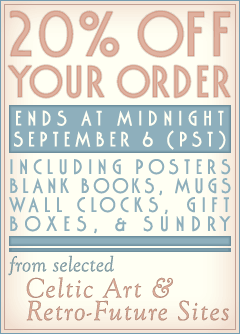 I'll be celebrating Labor Day by laboring, which is just how I roll. But in the meantime I've got a pretty sweet 20% sale on much of the merchandise in my online shops – at the both Celtic Art and Retro Future sites. Through midnight on September 6 you can get the 20% discount by checking out with the coupon code LBRSALE.
Here's where you can use the sale code:
Celtic Art & Retro-Futuristic Design
Retropolis (just the Celtic/Retro departments)
Celtic Art Books
the Retrovert
The Non-Conformists Union, Local 404
An awful lot of my merchandise is included in the sale, from my posters, blank books, and my Celtic knotwork book, to the mugs, greeting cards, gift boxes and who knows what all that you'll find on those pages.
[tags]sale, celtic art, celtic design, retro future, retropolis, vintage, retro, posters, mugs, books, labor day, sci fi, science fiction, fantasy[/tags]