Labor Day Sale on Celtic Art & Retro-Futuristic Design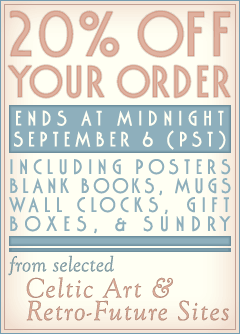 I'll be celebrating Labor Day by laboring, which is just how I roll. But in the meantime I've got a pretty sweet 20% sale on much of the merchandise in my online shops – at the both Celtic Art and Retro Future sites. Through midnight on September 6 you can get the 20% discount by checking out with the coupon code LBRSALE.
Here's where you can use the sale code:
Celtic Art & Retro-Futuristic Design
Retropolis (just the Celtic/Retro departments)
Celtic Art Books
the Retrovert
The Non-Conformists Union, Local 404
An awful lot of my merchandise is included in the sale, from my posters, blank books, and my Celtic knotwork book, to the mugs, greeting cards, gift boxes and who knows what all that you'll find on those pages.
[tags]sale, celtic art, celtic design, retro future, retropolis, vintage, retro, posters, mugs, books, labor day, sci fi, science fiction, fantasy[/tags]