A squinty, twitching update on 'Patently Absurd'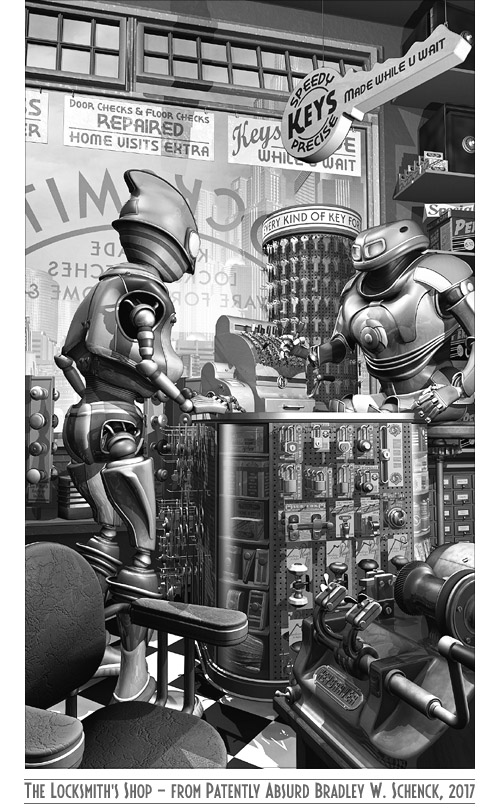 As I said in my last post, I've been busy; I still am. I'm working on my tenth illustration for Patently Absurd since the end of June.
It's not a bad average when you do the arithmetic, but I spent twenty days on the picture we see here. That's slowed me way down since the beginning (the first five pictures went very quickly) but I knew what I wanted here, and it was obvious that it would take a bit of time.
Sometimes what you need is a little, cluttered shop filled with the things that clutter little shops, and if all those things are unique and new then your next twenty days are pretty well spoken for.
I kind of expected it to take twenty-one days. So if you squint a bit and tilt your head just right, it looks like I'm ahead of schedule.
That's why I look a little squinty and twitchy just now.
It's not working, though. When I lose the squint and straighten up my head I can see that I'm far behind where I'd hoped to be by now. So it's likely that the blog will remain quiet for awhile longer.
I think it was one of Tim Powers' characters who once said "If it was easy, they'd have got someone else to do it."
Slaves of the Switchboard of Doom
I was pretty happy to see this latecomer of Switchboard reviews at Sci-Fi Fan Letter. Among other things, there's this:
I loved the characters in this. Dash is so much fun, and Nola's got a good mix of spunk and intelligence. The Campbell kids are… something. They were both great and terrifying to follow.

The world-building was great. The switchboard is sort of an internet, if history had taken a different path. The priests of the spider god were fun, and kept the old school pulp feel. The robot League and the interactions between robot and human people show a positive future that's often lacking in modern SF and something I enjoyed seeing.
The book's done very well over at Goodreads, with forty ratings and twenty-six reviews; at Amazon it has a good, solid rating, but only twelve reviews.
Hint: those Amazon reviews are really helpful at the Amazon site. So if you've read Slaves of the Switchboard of Doom, consider adding a review at Amazon. Thanks!
The Lair of the Clockwork Book
I'll close with a reminder that you can get an eBook copy of The Lair of the Clockwork Book for $2.99 (a dollar below list price!) at Radio Planet Books.