Radio Planet Books is alive! Alive, I tell you!

The Lair of the Clockwork Book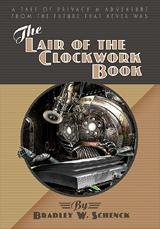 The Radio Planet Books web site is now alive and kicking.
I did a bunch of work on this late last year and at the beginning of this one; then I worked on it again through March, and picked it up one more time in early May.
Radio Planet currently has a slim list of one, count it, one book: the eBook edition of The Lair of the Clockwork Book. At the moment you can buy that title directly from the Radio Planet Books web site (as well as at Amazon, Barnes & Noble, and Kobo).
But even though there won't be news about a second book until some time this summer, there is still more at the site than you'd suspect.
That's because this site is rich in secondary content like page animations, dynamic sidebars, and other content that changes depending on the kind of page you're looking at. So it's the very broad foundation for what is, today, a very narrow thing: it's kind of like I built the Great Wall of China so I'd have a place to put my Eiffel Tower.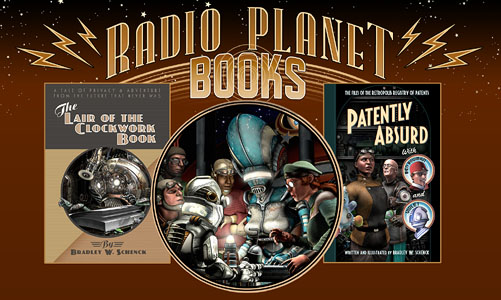 This site adapts itself dynamically to the width of your browser window. That helps it to be readable on just about any device.
But because everything is indexed to the window's width you can see the same changes happen on a large display, every time you resize your browser. The elements on the page rearrange themselves, the size of the type changes, and some elements appear or disappear, all depending on changes to the window's width. The crazy amount of Javascript I'm using to control all that ate up a large amount of the time I spent on the site; but that was pretty near the beginning. Filling out the sidebars and footers, and creating the animations, was a large part of the remaining time.
The thing likeliest to change at this point is the home page copy. I wrote that last, as I usually do, and what's up there now is only the second version. There will probably be a couple more before it all settles down.
But, more importantly? More books. Expect to see news about my Patently Absurd here, and at Radio Planet, in a couple of months. There's also another project that I haven't been able to talk about, because nothing's settled: an illustrated book of stories by someone other than me. But negotiations have dragged on for such a long time now that I'm not even sure where that one's going. It's a case where you and I might be equally surprised, later this year.