Win an artist's proof of my cover art for "Slaves of the Switchboard of Doom"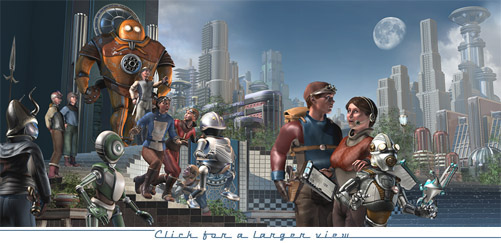 Some lucky – or, at least, some random – attendee at this month's Arisia convention in Boston will be going home with a signed proof of the poster version of my dust jacket art for Slaves of the Switchboard of Doom.
How could that happen? Well, throughout the weekend they'll be selling raffle tickets for this and other Fabulous Prizes; and then on Sunday there'll be a drawing. Proceeds from the raffle will go to the Alzheimer's Association in memory of Sir Terry Pratchett.
The final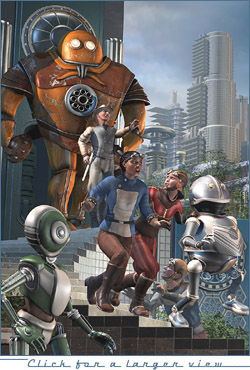 poster will eventually be available to the public, but that won't happen for a while. So this is your chance to steal a march on those folks next door who always get the first dust jacket posters for anything I do. You know those people. You hate those people. They're just so smarmy.
It's worth a trip to Boston, just to show them who's boss.
So if this all sounds great to you, but you have no idea what Arisia is, you can read all about "New England's largest, most diverse Sci-Fi and Fantasy Convention" right over here.
Hey, Ursula Vernon and Stephanie Law are going to be there. I'm thinking it's worth your time. And of course there's the added bonus of a signed print of the Slaves of the Switchboard of Doom cover, for someone who could be you.