Fantastical Photographs by Michel Lagarde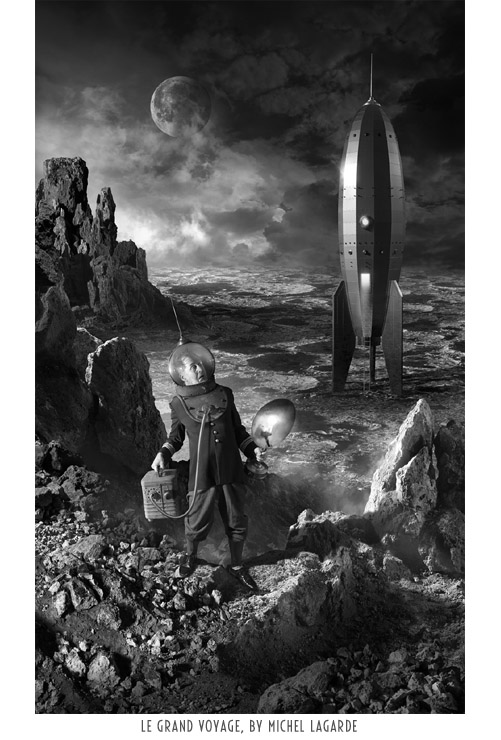 Each one of these meticulously composed, hyperreal photographs by Michel Lagarde is an elaborate production, and I love them.
Lagarde builds these pictures from the ground up with a combination of techniques that include 3D modeling, miniatures, and model photography, all combined with an impossible sharpness and clarity into weird, engaging images that seem as though they could only come from France, like the films of Marc Caro and Jean-Pierre Jeunet.
In the example below, see how the same models appear – even in the same costumes – more than once. The stillness of the stagy composition contrasts with the implied motion of the characters in a bizarre, brain-bending view of motion and motionlessness, all in a single frozen moment.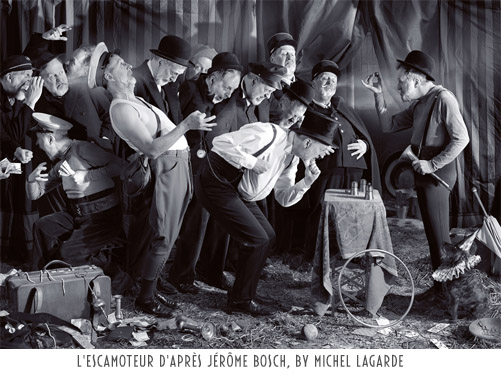 You can see these photographs in two galleries at Lagarde's web site, here and here. It's possible to buy prints from the artist; unfortunately it looks as though his two hardcover collections are out of print.
But in addition to the galleries there are a couple of behind the scenes pages at the site. They're fascinating. You can see how Lagarde works out his composition with a variety of tools and then builds the parts he needs to create the picture. The number of layers? Up to a hundred, and possibly even more.
The whole site is well worth a visit. Just be ready to lose some time there.