Through September 21st, get free standard shipping on all my T-shirts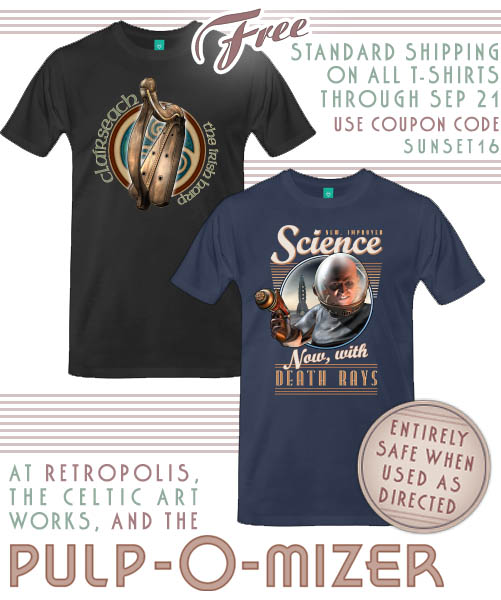 Early as it is, I find myself looking out the window for signs of Autumn. The ornithopters are hanging out on the roofs and trees… and, anyway, ornithopters are mechanical. Any time you see them flying South for the winter you can be pretty sure that they're just messing with you.
They do like their little jokes.
On the other hand, I always look forward with dread to the last T-shirt sale of the season. Is this it? I don't know. But it could be.
Embrace the pessimism! Get right over to Retropolis or The Celtic Art Works (or even the Pulp-O-Mizer) and fill your shopping cart with T-shirts in time to enjoy free standard shipping on one* two or one hundred of them**.
The free shipping sale runs through September 21st. All you have to do is enter the coupon code SUNSET16 during your checkout and then sit by the window, watching the deceptive ornithopters, and wait for the postperson to come.
*Well, apparently they changed their minds. It's now free standard shipping on orders of $30 or more.
** One hundred T-shirts is the recommended daily allowance.