New paperback editions of Matthew Hughes' Fools Errant and Fool Me Twice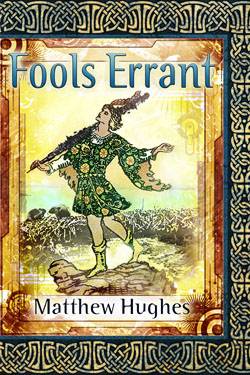 Matthew Hughes has just published new paperback editions of his earliest Archonate novels, Fools Errant
and Fool Me Twice
. I'm always happy to do the layouts for his books and I'm especially happy to do the print layouts. Say what you like: I really do like paper.
As with most of Hughes' self-published editions, the cover paintings are by Ben Baldwin. I just adapted them to the book's shape, which I did here with knotwork borders.
From the description of Fools Errant:
Wise, witty and just a little weird, Fools Errant wryly strolls the satirical path laid down by Douglas Adams, Terry Pratchett and Jack Vance, heralding the brilliant debut of a gifted new voice.

Foppish young Filidor Vesh wants only to dally among his shallow pastimes. But a simple errand for his uncle, the vaguely all-powerful Archon of those parts of Old Earth still populated by human beings, becomes a frenetic odyssey across a planet speckled with eccentric nations pursuing odd aims with intense determination.

Harried at every step by the irascible dwarf, Gaskarth, and frequently at the peril of wild beasts, enraged mobs and a particularly nasty thaumaturge, Filidor makes a relucant progress toward a final encounter with an ancient and possibly world-ending evil.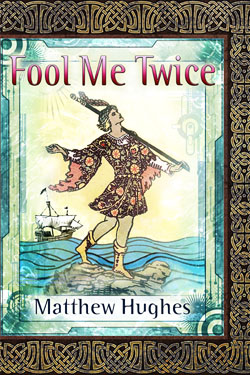 Fool Me Twice continues the adventures of Filidor – who we'll see again, in the Hapthorn novels and elsewhere – in his new position as apprentice to his uncle, the Archon. Once again we have travels to far and peculiar corners of Old Earth – in what's remarkably like the last age before Jack Vance's Dying Earth – while Filidor "must cope with philosophical pirates, prophet-seeking aliens, light-fingered mummers, and a tiny, bothersome voice in his left ear."
As always, lots of fun. If you're more of an ebook reader – I don't judge – you can also get the books in electronic form through your favorite outlet or at Hughes' own Archonate Bookstore.