And now, a word from our sponsor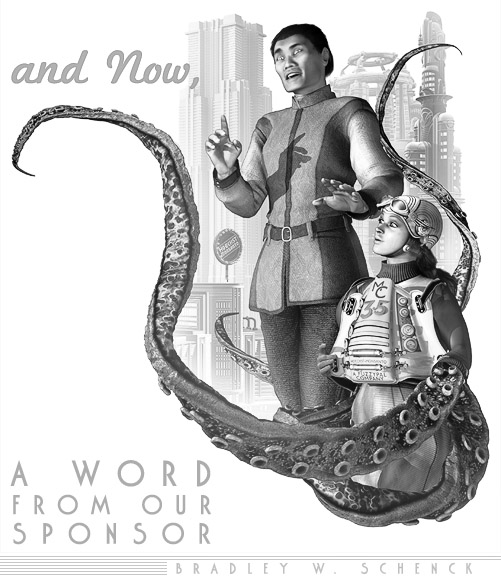 … who is me.
I know. That does seem redundant. Pretty much everything you see here is a word from me, whether or not I'm wearing my Sponsor Hat, so you could argue that it doesn't really bear mentioning that this is A Word From Our Sponsor. On the other hand, it's my blog (and my hat) so I'm going to call it whatever I like.
Sorry. Lost track of my thought there. The actual Word, then, is that from now through November 8th you can save a bunch of money on T-shirts from The Retropolis Transit Authority and Saga Shirts. Twenty per cent, in fact. All you have to do is add at least $30 worth of T-shirts to your shopping cart and then, when you check out, use the coupon code JOY20.
Since men's and women's tees are priced at $21.95, after the discount a shirt will be just $17.56: a pittance, honestly. Kids' shirts are even a little less.
The same discount applies to T-shirts you design in the Pulp-O-Mizer. I just don't have nifty sales banners over there. Why not? I'll have to ask Our Sponsor.