A flying scooter for the Retropolis Courier Service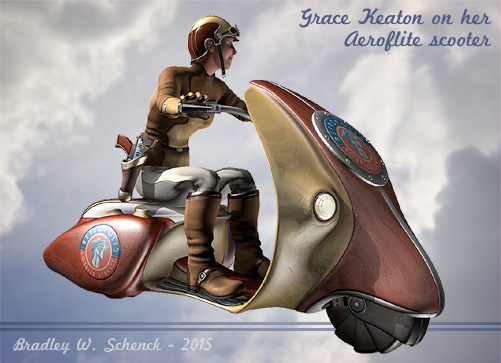 As always when my blog goes quiet, I'm doing stuff; stuff that I either can't tell you about, or which I'm doing too much of to get around to telling you about it.
This is probably an example of that second case.
I mean, if it was the other one I couldn't tell you, right?
Before I start wondering about that myself, then, here's Grace Keaton on her aged but serviceable Aeroflite flying scooter; it's a work vehicle, standard issue for couriers in the Retropolis Courier Service. Grace makes her deliveries on the notoriously dangerous Route X and she's the longest-lasting (in fact, the only surviving) courier on that route.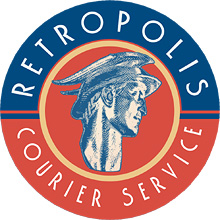 Route X couriers make four times the wages of normal couriers and Grace works half days. That's a comfortable living for a graduate student. Unless you weaken.
But somebody has to deliver along Route X. How else would the denizens of Retropolis' Experimental Research District get their 'mildly' toxic chemicals, their suspiciously glowing minerals, or their generally illegal biological specimens?
I've meant for years to model a flying motorcycle. It's just recently that I understood that a motorcycle isn't really what you'd want: you need something much more like a Vespa. So this one's about done (though it still needs a little trailer for those more cumbersome packages).