World's Greatest Megalomaniac T-Shirts at the new Retropolis Transit Authority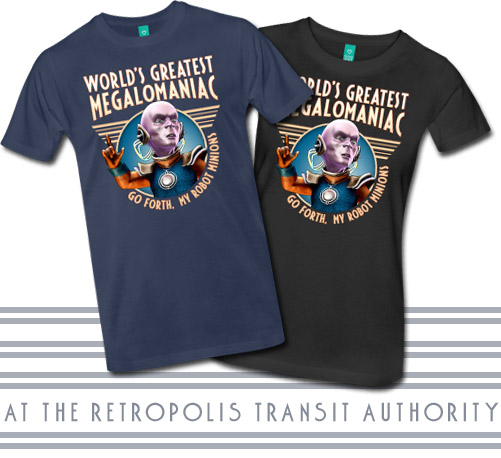 If you're going to be the Worlds Greatest Anything… my advice? Shoot for the stars. Go for WORLDS GREATEST MEGALOMANIAC.
I told you this week about my all-new incarnation of the Retropolis Transit Authority. But I didn't tell you everything. When I remade the Transit Authority shirts for their new vendor, I left fourteen of them out. They were old designs, or designs I thought should be better, and the plan is that over time I'll either do them over or retire them permanently.
This is the first of those new versions.
Now, The WORLDS GREATEST MEGALOMANIAC is unique in the store. While I was writing The Lair of the Clockwork Book I invented a coffee mug with that slogan on it. And once I'd invented it, I could see that it needed to exist: so I made one, and I made shirts to match. Today we have a new, improved Megalomaniac – and, come to think of it, NEW, IMPROVED MEGALOMANIAC! has potential, too. Let me get back to you on that one.